Coursing Jackets ~ look good, running fast!



Domino Whippets is proud to offer high quality lycra spandex coursing jackets for multiple sighthound breeds. Our design is the traditional one, with a strap across the chest and one under the tuck-up. This is the only design we plan to offer at this time.

We buy our fabric in bulk to keep prices as low as possible and still provide superior quality. Our jackets are sewn using a holographic thread, providing a golden finishing touch to each jacket.

We use high visibility neon colors for our product. Our fabric choice is a reflective holographic printed lycra spandex (intended to reflect light and heat off the dog). It has the added benefit of looking great in photos!

WARNING! - Don't settle for imitators or designs pirated from ours. The quality is NOT even close and you will surely be disappointed. To ensure authenticity, look for overlocking zig-zag stretch stitch all around the edges and double-strength stitching at seams. Also, look for break-resistant, plastic, holographic thread on the outside seams of the jacket. Our product is often imitated but never duplicated!

Here are photos of our fabrics: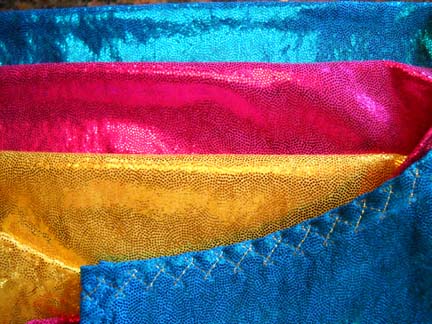 Metallic - with Aqua blue jacket.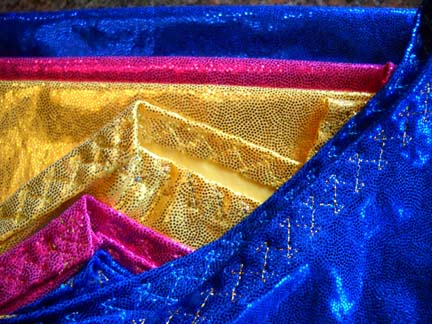 Metallic - with Navy blue jacket.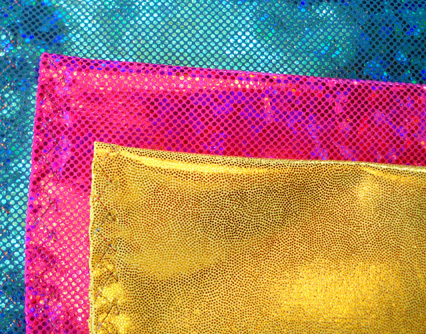 Shattered Glass - with Aqua blue jacket.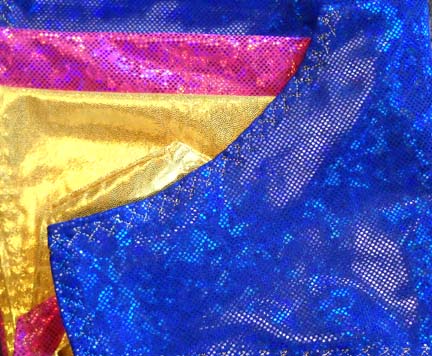 Shattered Glass - with Navy blue jacket.

(Note: Shattered Glass pattern not available in neon yellow, so Metallic yellow is included in set.

Washing instructions:

Hand wash using a gentle dish detergent. Roll in a dry towel and wring dry. Hang to air dry overnight.
Avoid use of Oxy-Clean as it will remove the reflective pigment from the fabric.
Wash after using the product in conjunction with any linament, to help minimize color changes to the fabric.
To avoid mildew odor, do not seal damp jackets in plastic containers.
Click for our flyer:
Use and Care of Your New Coursing Jackets

Whippet jackets come in X-Small (fits dogs ~ 24-29 lbs), Small (fits dogs ~ 30-35 lbs), Medium (fits dogs ~ 35-42 lbs) and Large (fits larger males ~ 43-50 lbs). Whippet jackets are priced at $35 plus shipping. Other breed sizes also available upon request. Contact us for more info. We ship by USPS Priority Mail with tracking.

Please contact us with your questions, comments or testimonials. We're always happy to hear from you!